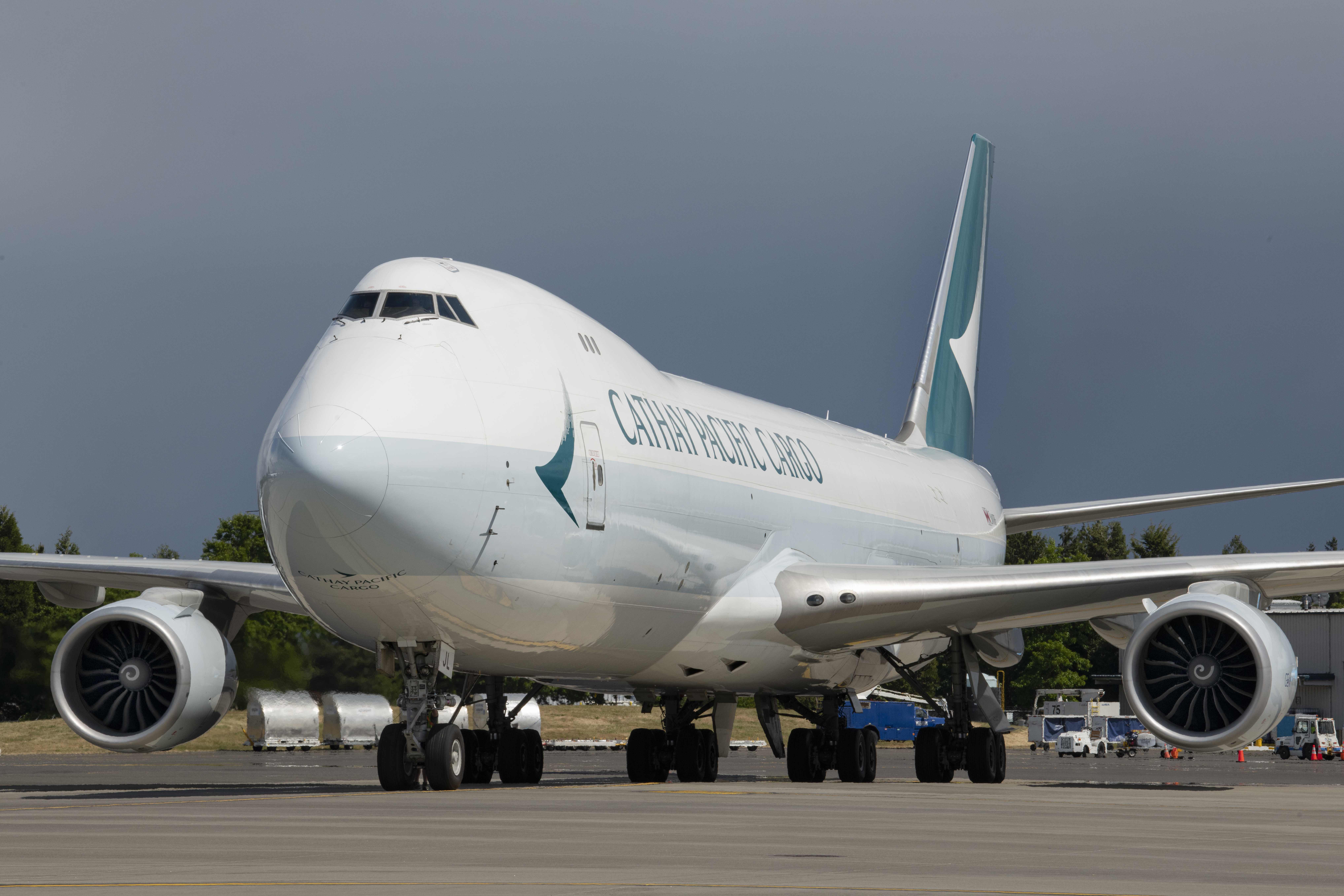 5/21/21
PDX, Cathay Pacific Partner to Bring COVID-19 Test Supplies to India
On the afternoon of May 20, 2021, a Cathay Pacific Airways Cargo carrying 300,000 BinaxNOW rapid COVID-19 test kits took off from the Portland International Airport (PDX), en route to Mumbai, India. The tests will be delivered to the Desai Foundation, an organization that serves rural communities with health and livelihood programs focused on women and children in the states of Rajasthan, Gujarat, Maharashtra and Madhya Pradesh.
[Note: video and photos can be accessed here. They can be credited to the Port of Portland.]
Many people waiting in line for tests in India – which is experiencing a COVID-19 surge – are turned away due to lack of supplies. The Desai Foundation will distribute the test kits to COVID Care & Isolation Centers, hospitals and local health workers to ensure they get into the hands of those who need it most. The tests, which produce results in 15 minutes, will allow more cases of COVID-19 to be quickly identified so that steps can be taken to contain the virus.
"It's simply devastating what is happening in India as COVID-19 variants exact an enormous toll on human lives. In Oregon, our hearts break for the families who have lost loved ones," said Governor Kate Brown. "This shipment of rapid tests to India provides some hope. Early in the pandemic, Oregon sent ventilators to New York as they battled their worst surge of the virus. In Oregon, we step up to help those in need by offering any help we can give. I hope others join in this effort and do their part to slow the spread in India, because this virus knows no borders."
A number of partners made this delivery possible. Oregon received 1.2 million BinaxNOW tests from the federal government in Oct. 2020. With generous supply still remaining, the Oregon Health Authority and Department of Administrative Services partnered with logistics company Expeditors to manage the shipment to India. Davis Trucking brought the kits from the state's Wilsonville warehouse into Portland. Both companies performed the work at no cost.
For the second time this pandemic, Cathay Pacific adjusted its air cargo operations to get COVID-19 supplies to a region that needs them – also at no cost to the Port or the state. Last May, Cathay Pacific partnered with the state and Port of Portland to bring 1 million 3-ply surgical masks into Oregon at a time when they were in short supply for frontline healthcare workers.
"Throughout this pandemic, we've continued to look for ways to leverage our partnerships to help communities respond to COVID-19," said Keith Leavitt, chief trade and equitable development officer at the Port of Portland. "We're so grateful to the state, Cathay Pacific and the other local partners who stepped up to make this flight happen."
The Cathay Pacific air cargo operation began service from Hong Kong to PDX at the end of 2016, partnering with the Port and both the State of Oregon and Nike to bring this new Boeing 747-8F direct freighter service to Asia. Throughout the pandemic, Cathay Pacific has continued to serve PDX three times a week, bringing important goods and supplies in and out of Oregon.
"Cathay Pacific is proud to partner with the Port of Portland in the global fight against COVID-19," said Chris van den Hooven, Senior Vice-President, Americas, Cathay Pacific Airways. "We have prioritized humanitarian relief efforts over the past year, delivering more than 100 tons of much-needed humanitarian and medical supplies to India. Cathay Pacific stands ready to do our part in supporting relief efforts."
# # #
Portside
Our digital magazine sharing stories about our Port of Portland team, the people we serve in our region, and our connections across the globe.
Check it out!
Media Relations Team
Our Media Relations Team strives to provide what you need in a timely manner. You can reach our on-call Media Relations representative 24/7 by texting or emailing the address below. During regular business hours feel free to contact the appropriate media relations contact who can assist you with visits and any interview or information requests.
After-hours on-call Public Information Officer: Click for email
You may also be interested in